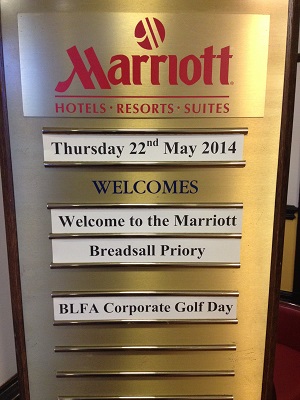 The 2014 BLFA annual golf competition was held on Thursday 22nd May  at the Marriott Breadsall Priory Hotel & Country Club, Moor Road, Morley  Derbyshire DE7 6DL
As one of the most eagerly awaited events in the BLFA calendar  we are pleased to report that the day was a real success, despite the extreme weather ! Many of the teams had to evacuate the course due a brief storm, lightning included, but the day then continued with most managing to complete the afternoon round.
An evening dinner was held afterwards with a prize presentation to the winners and runners up of the various trophies including the President's Putter and the Christopher Thomas Trophy.
A special thanks must go to Graham Douglas and the team at Excelsior Panelling Systems who put so much into organising the day.
We look forward to arranging another event next year and we are hoping to book the same venue as everyone was very impressed with the golf and hotel facilities.
Here are some more pictures from the evening dinner: